Plants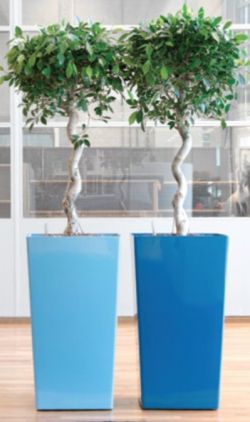 Plants are sourced mainly from growers in Holland. There is a large range of plant varieties and sizes available.
Varieties that we recommend for your planting scheme, will be suitable for that particular environment e.g. light levels, temperature.
Once installed the plants will be maintained to a high standard to keep them looking fresh.
Planters
There is a large range of planters available to choose from; synthetic, ceramic, stainless steel, natural etc. plus planters made from recycled materials.
One of the most popular and easy to use range of planter is the Lechuza. Classic designs, readily available and comes in a range of shapes, sizes and colours.
Download our Lechuza Planter Brochure
If you have a particular colour scheme, or would like to match your corporate logo colour, most of the synthetic planters can be sprayed to any RAL colour.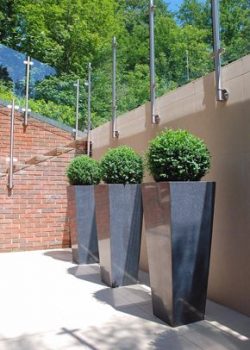 A bespoke service is also available which means that the planter can be supplied in any desired shape, height and width. This also includes stainless steel. The containers can be personalised with your company logo and can have hidden castors fitted to the base if required.
Hydroculture
Plants grown in hydro granules (leca) and water (soil less) is known as hydroculture. This tends to be a cleaner method, providing strong healthy plants with less chance of any pests and diseases taking hold, although they can be slightly more expensive than traditional soil grown.
Orchids
A display of white orchids provide a bright welcome for Reception desks. Replaced every six weeks these provide a cost effective alternative to fresh flowers.
Exteriors Entrances/Balconies
We can provide planters and greenery, including Buxus and Bay, to enhance entrances and balconies.